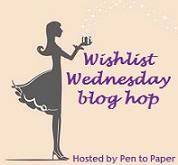 Wishlist Wednesday is a weekly blog hop post hosted by
Pen to Paper
in which we each write a post about a book that is on our wishlist.. either new or old it doesn't matter!
This week I have chosen
When God was a Rabbit by Sarah Winman.
'Product Description'/Summary from Amazon:
Young Elly's world is shaped by those who inhabit it: her loving but maddeningly distractible parents; a best friend who smells of chips and knows exotic words like 'slag'; an ageing fop who tapdances his way into her home, a Shirley Bassey impersonator who trails close behind; lastly, of course, a rabbit called God. In a childhood peppered with moments both ordinary and extraordinary, Elly's one constant is her brother Joe.
Twenty years on, Elly and Joe are fully grown and as close as they ever were. Until, that is, one bright morning when a single, earth-shattering event threatens to destroy their bond forever.
Spanning four decades and moving between suburban Essex, the wild coast of Cornwall and the streets of New York, this is a story about childhood, eccentricity, the darker side of love and sex, the pull and power of family ties, loss and life. More than anything, it's a story about love in all its forms.
This book has been on my wishlist for a couple of months now, I just havn't even got round to buying myself a copy let alone reading it! Everytime I go into Smiths or Waterstones I either don't remember to pick it up, or can't find it!
Fingers crossed I remember to get my hands on a copy for myself soon and hopefully it'll fullfill my expectations as from what I've heard it's pretty good!
Abi.. x